Facilitated online support groups.
NoFap's accountability groups will help you stick to your decision to leave porn and compulsive sexual habits in the past. Through weekly meetings, you'll gain admission to the inner circle of the most dedicated NoFap users, with direct access to the NoFap team. We're available to anyone, including beginners, who are looking to recover from porn addiction or compulsive sexual behavior.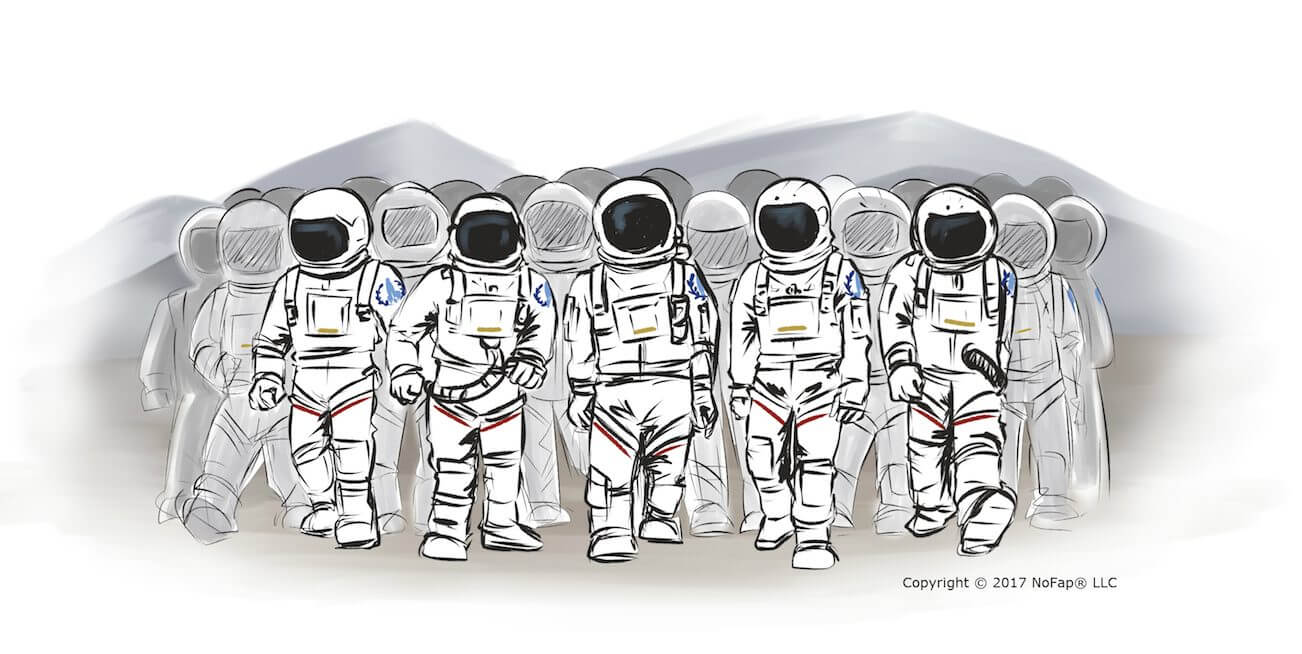 more lively: up to 35 people
Big Group
more personal attention: ~12 people
Small Group
How do the group calls work?
Join using your computer or phone.
You may attend our accountability calls from anywhere in the world. You will be provided both a phone number to call in or a URL to connect live online.
Share your progress or setbacks.
The NoFap-appointed group facilitator will make sure that everybody who wants to has a chance to share their recovery ups-and-downs.
Give and receive encouragement.
Get support from the group facilitator and fellow call attendees. At the end of the call, we will set goals for the next week.
Frequently Asked Questions
Is this group therapy?
This is not group therapy, mental healthcare, or treatment for porn addiction. Our accountability groups are focused on accountability. Attending peer group meetings is not a replacement for mental healthcare. We recommend seeing a properly credentialed therapist in conjunction with your accountability group attendance. (we wrote up some advice for finding a porn-literate therapist here)
Should I sign up for a "big group" or a "small group"?
There are benefits to each. Some people find that having more people in the call is motivating, while others find the deeper camaraderie of a smaller call more motivational. There is less individual attention given in big groups, which is ideal for busy people who require just a quick check-in. Some people prefer to sit in and benefit silently from the recovery atmosphere, while not actively participating themselves. In this case, big groups are a better option. The choice between big or small groups is up to you and the experience that you want to have.
Can I remain anonymous?
You can, of course, remain anonymous if you prefer to and we encourage call attendees to remain anonymous. What you choose to reveal is entirely up to you. Using your NoFap username is completely acceptable. We also recommend not sharing personal information about yourself that could be used to identify you, such as your job, where you live, etc, if you have concerns about anonymity.
Are you religious?
Nope. Our group meetings, similar to the website itself, are secular. Group facilitators may be personally non-religious or religious people, but they keep their personal religious beliefs (or lack of belief) to themselves. People from many religions around the world, or of no religion at all, utilize our website. We approach the issue from a science-based, secular perspective. If you are religious, we are happy to have you, but call facilitators won't be able to get into religious text discussion with you!
Who can join?
Anybody who is 18 years or older.
How will you hold me accountable?
We hold you accountable – but there's only so much that we can do. For example, we can't physically go to where you live and force you to attend our sessions. You are responsible for showing up to the calls. From there, our facilitator and the community will encourage you to reach your sexual health goals. But similar to how a personal trainer actually can't do the exercises for you, we can only show you the path – it's up to you to walk it. So the answer is, yes, we will hold you accountable and we keep track of your progress, but you need to show up to the calls and honestly participate!
Who runs the groups?
A trained facilitator runs and maintains the flow of the meetings. These are generally NoFap team members, such as moderators or site administrators. Even NoFap founder Alexander Rhodes will be running some of the groups and will try to stop into every group to say hi once per month. From behind the scenes, the NoFap team organizes the groups and sets up the calls.
What if I can't attend one week?
We prefer to keep groups as stable as possible, so we generally do not prefer for people to temporarily switch to another group just for one week.
When do you meet?
We meet at a variety of times, every day of the week. Most calls start sometime between 10 AM – 8 PM ET. If you are from another time zone, please check to make sure that time range works for your schedule before signing up. Here is a handy time zone conversion site.
What do I need to connect to a call?
Any phone or a computer. You can dial-in or connect via the Zoom meeting software on your computer (Windows, Linux, and Mac), iOS, or Android device. If you can read this web page and sign up for the groups membership, you have the ability to attend the calls.
What languages are the calls in?
For now, all calls are in English and hosted by team members based in the United States. Anyone from any country is invited to attend, but we highly recommend a conversational fluency in English to listen, participate, or live chat.
Do I have to talk or participate?
No, you are welcome to attend and just listen. And our text-chat option allows you to communicate live with the NoFap team and group members without speaking. However, the quality of your experience and the support you receive will depend to a degree on the relationships you build with the team and your fellow group members, so we encourage you to contribute as much as you feel comfortable doing.
Will you give me advice and answer my questions?
Generally yes. Keep in mind that the group facilitators are similar to you, though, and cannot provide you medical or mental healthcare advice. They do, however, have personal experience with porn addiction (and sometimes compulsive sexual behavior too) and can share what has worked (and not worked) for them, along with giving you general guidance based on NoFap's best practices.
Can I get in for free?
No – we have to pay for the facilitator's time, the administrative costs associated with organizing the groups, running the website, etc. If you cannot afford to join our program, you can still take advantage of our free recovery forums. You might be able to find a peer-facilitated chat group on there. We also plan to host some free online events, so be sure to stay subscribed to our mailing list.
What can I expect after signing up?
After signing up, within minutes you will receive a survey in your email box (if you don't see anything, check your spam folder!). The survey will ask you some basic questions about yourself and which times that you are available. It may take up to a week to match you into an accountability group, but during the first weeks you will be invited to some drop-in groups. During our initial launch, the first regular groups will be meeting on December 1st. In the future, every month, we'll send you an invitation to your call, hosted via Zoom. You can connect to these calls using your computer or any phone.
Can I stay in touch with fellow group members in between calls?
Yes. While we do not allow group members to exchange contact information for privacy reasons, we set up forum groups for each session just for group members to stay in touch. Note that you have to have an active NoFap forum account to utilize this optional feature of the membership.
Do you meet on holidays?
We would, but traditionally we've noticed that group attendance dips during major holidays. However, we also know that holidays can be a stressful or reminiscent period that can lead to increased urges to go back to old habits. During major holiday weeks such as Thanksgiving or Christmas, we will likely be doing "drop-in sessions," meaning that we'll be canceling regular group sessions, but will set aside particular times throughout the week to connect for those who still want accountability or to ask us questions. During our Groups launch period, we will be hosting a number of drop-in sessions during Thanksgiving week, then we'll be meeting in our regular groups for the first time starting on December 1st. 
My question isn't answered here!
Big Group
Limited to 35 people per call.
Monthly (launch discount)
Less pressure to actively participate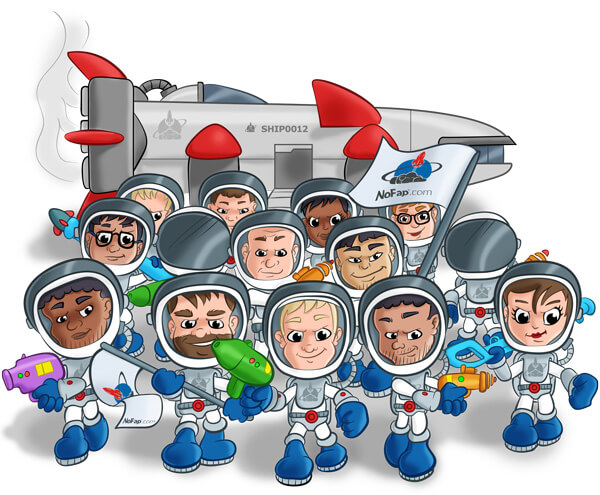 Small Group
Limited to 12 people per call.
Monthly (launch discount)
More personalized attention
"The Fine Print"
This is a monthly membership service that is automatically billed to your billing information on file until cancelled. While we do not provide refunds for this service, you may cancel your membership at any time on this page to avoid future billing.
During this initial offering, we are "beta testing" our systems to ensure a high-quality experience for those who join. Therefore, we have placed a cap on the number of people who can sign up. If you are serious about recovery and are looking to join, we recommend signing up quickly as we expect slots to sell out. After the cap is reached, we will be unable to take on any new members. We anticipate opening up enrollment again in 2020.
All attendees must agree to our Terms of Service / User Agreement and Call Rules prior to signing up. Our rules are designed to foster a civil group dynamic that helps everyone reach their goals. We've never yet had to deny anyone access, but NoFap reserves the right to revoke an individual's access to the program if they repeatedly disrupt meetings and disregard facilitator direction.
This is not mental healthcare, group therapy, or treatment for porn addiction. Group leaders are peer facilitators appointed by NoFap. They are, in general, similar to you – enthusiastic recovering addicts who want to help provide a supportive atmosphere for attendees to provide mutual encouragement – not professional licensed therapists. We strongly recommend that you see a therapist in conjunction with attending our accountability group calls.
By signing up and attending accountability groups, you agree to waive all claims against NoFap LLC, our principals, our team members, or our call facilitators for any advice that you receive or any actions that you may take as a result of attending accountability groups.
We take the privacy of our members very seriously. Recording calls or publicly disclosing personal information about others discovered during calls is

strictly

prohibited and may likely result in legal action. However, while NoFap can guarantee that NoFap won't disclose your personal information to other parties, we cannot make that guarantee on behalf of other call attendees.